"Engaging read" -Booklist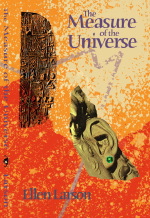 The Measure of the Universe
ISBN 09669877-4-8
by
Ellen Larson
Fire up your universal translators--
it's Prometheus, Bloodied but Unbound!
"Bookstore workers will hate trying to figure out where to shelve The Measure of the Universe, which cleverly weaves mystery, romance, and wordplay into a twenty-first century tale." -Strange Horizons
"Cult classic" -Publishers Weekly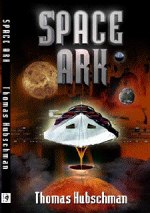 Space Ark
ISBN 09669877-5-6
by
Thomas Hubschman
Moses Mneh, Rita Ten, Walter Centaurus and the evil President of the New Worlds Confederacy...they're all back in this reissue of the SF cult classic of the 1980s!
"Welcome reissue of the Science Fiction cult classic, rousing and adverterous" -MWBR